Tatra Mountains - Polish Alps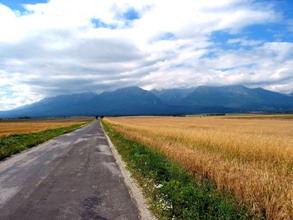 The Tatras range of mountains is the highest and most beautiful section of the Western Carpathian mountain range, which are located on the border of Poland and Slovakia. The Polish Tatras are considerably a small part of the entire range and constitute only one-fifth of the entire range of Tatras, while the rest of the range is situated on the Slovakian side.

The highest summit on the Polish side is Mt. Rysy which rises 2499 meters above sea level. However, the Polish Tatras are blessed with some of the most spectacular views - for instance, the most beautiful nook of the High Tatras (one section of the Tatras) Dolina Rybiego Potoku, and the most scenic valley in the Western Tatras, Dolina Koscieliska, are both situated in the Polish section of the Tatras.

Increasingly becoming an attractive alternative to the Alps and Apennines for skiing and mountaineering, the Tatras are simply magnificent. Stunning in their beauty, their granite peaks were formed over 60 million years ago and were further shaped by glaciations, which cut through the weaker seams, thus creating the rugged beauty we can see today.

Only a two hours drive from Krakow, the Tatras offer everything that a mountain vacation should - dramatic vistas, rich flora and fauna, emerald lakes, bucolic pastures, scented forests, cascading waterfalls, the best skiing in winter and other recreational activities like hiking, rock climbing, cycling etc. throughout the year.

The Tatras draw over three million visitors through out the year and as expected, tourism is the largest industry of the area. However, it is commendable that in spite of it being a tourist destination for now well over a century, the region has retained its pristine look. This is probably due to the fact that the entire Tatras, on both sides of the Polish border, were declared as national parks by the two neighboring countries.