Swinoujscie - Poland Begins Here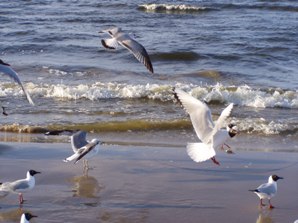 Famous for its splendid Baltic beaches, Swinoujscie is an attractive and popular tourist destination and an all year round health resort. Its residents fondly proclaim that Poland begins here for indeed Swinoujscie is located on the far north-eastern border of Poland.

Unlike any other town in the country, Swinoujscie is situated on 44 islands, three of which, namely Uznam, Wolin and Karsibor, are inhabited. Uznam is the fashionable tourist destination, where the town's centre lies, while Wolin, the biggest Poland's biggest island is basically a harbor and industrial hub. The island Karsibor has a famous bird reserve on its territory and is great for fishing and angling.

The area of Swinoujscie is naturally bordered by the Szczecin Bay, the Baltic Sea and the German border and the larger part of Uznam is on the German Side. Swinoujscie has much to recommend to the tourist - Beautiful sandy beaches, that extend from the German border all the way to the mouth of the Swina River, which crosses the town, large woods and parks with diverse fauna and flora for the nature enthusiast, and of course all the common touristy spa advantages expected of a beachside resort.

Its unique geographical location allows for day excursions to neighboring Germany. Pedestrians and cyclists can cross over by the opening to the town of Alhbeck, while a rail and road connection is also an option. Scandinavian countries are also easily accessible from Swinoujscie by permanent ferry connections - Sweden is only 175 kilometers and Denmark a mere 150 kilometers. In fact the Ferry terminal provides a vital link between Central Europe and Scandinavia.