Slowinski National Park (Leba)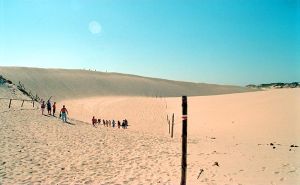 Slowinski National Park, the UNESCO recognized MaB Biosphere Reserve, lies in the northwestern part of Poland. Flanked by water bodies on its north and south and occupying the central part of the Polish coast (between Leba and Rowy), the park is spread over an area of 18,618 ha. While the 32.5 km Baltic Sea coastline constitutes the northern border of the park, a chain of four beautiful lakes - Lebsko, Gardno, Dolgie Wielkie and Dolgie Male - marks its southern border.

The park has been named after the Slowincy people (a native group of the Kaszuby region) who once inhabited the marshy zones in this part of Poland. The decision of developing the region as a national park was taken in the 1946 Leba-conference that was attended by scientists from all over Poland. Finally, the national park was established in the year 1967; UNESCO's recognition came 10 years later, in 1977.