Rzeszow - The Seat of the Diocese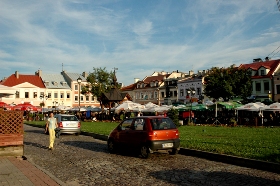 An important economic, scientific and cultural center of south-eastern Poland, the city of Rzeszow can trace its origin back to the 14th century when is established its town law. Today it is the capital of the Podkarpackie Province and counted among the largest cities in that region.

Located on the Wislok River, Rzeszow is also the seat of the Authorities of the Catholic Diocese. A quiet place, which is ideal when one is looking to take a break from the hubbub and frantic pace of day-to-day life, the city of Rzeszow is marked with a unique topography - in the south the border of the city is delineated by the Strzyzowsko-Dynowskie Plateau, and divided by the meandering valley of the Wislok River. In the north, the forested Kolbuszowski Tableland marks the extremity of the city's border.

Rzeszow has also risen in importance in the Diocesan circles since the visit of the now late Pope John Paul II in 1992. He established the new Diocese of Rzeszow and the city became the administrative seat and the "Sacred Heart of Jesus" church was raised to the level of a cathedral. Once can hear the bugle call, sounded from the city hall every three hours.

Today Rzeszow is the largest urbanized are in southeast Poland, an undoubted trade and commerce center, and has the distinction of being the largest academic center in the region with over 40,000 students.

Apart from the scenic environs the city has many attractions which draw tourists every year to this beautiful city. Those who love folklore and the performances of folk bands will find the most colorful examples of this art among various festivals or at campfires, sledging cavalcades and at picnics organized for tourists. There is a wide variety of accommodation available in the city as well as a host of restaurants and cafes. Visitors can have pleasant stay with numerous museums, galleries and other cultural activities to keep them busy. Incidentally, Rzeszow is also home to one of Poland's five casinos.