Lublin - Birthplace of Unionization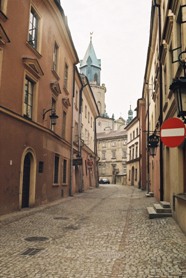 Located in eastern Poland, Lublin is a mere 175 kilometers from Warsaw and hence often a convenient day trip for many tourists staying in the city. Lublin finds its origins as a trade route stop-over in the 6th century and over the years has grown into the industrial and scholarly town that its is today. Uniquely placed at the Belarussain and Ukranian border, Lublin has had an eventful history. Today, it is considered an important center of industry with many trade links, especially with Poland's neighboring countries.

As legend has it, Lublin was the first city in Poland to make a move towards Christianity when it erected a commemorative temple to St. Nicholas. Over the next 400 years, Lublin first raised a fortified castle to protect itself from its eastern neighbors and then slowly transformed itself from a mere stronghold to into an important township. Lublin shot to fame in 1569 when the Lublin union ratified the union of Poland with its neighbor Lithuania making it the largest empire in mainland Europe. It continued to savor this position of importance until the partition, when the empire was broken up and the Polish state was carved into separate states. It became part of independent Poland in 1918.

Lublin is an ideal home-base for the visitor who wants to explore the attractive areas in south-eastern Poland. Kazimierz Dolny, Majdanek (a suburb of Lublin), Pulawy, Naleczow Spa, Roztocze Reserve, Zamosc, which are a wide array of small towns with Jewish architecture. Being near the border, it is also perfect as a stop on the way to Ukraine.

In addition to being an important historic city, at the crossroads of European history, Lublin also has to its credit of being among the few un-spoilt areas of Poland. Although the city sadly remains unknown to most foreign visitors, Lublin has plenty to offer. Traditional crafts, thatched houses, attractive villages, ancient and historic monuments and a richly varied countryside, all provide an intriguing insight into Poland's varied past and history and make this picturesque town definitely worth a visit.