Lodz - The Textile Capital of Eastern Europe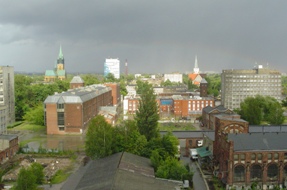 A dull grey city. That was the most common description of Lodz, which is primarily an industrial township, for many decades. But not any longer.

Lodz is a relatively young town although it roots can be traced to the 14the century. (Documents dating to 1332 mention the village of Lodzia). It is the center of the textile industry and until recently was indeed dominated by dull grey factories, smoldering smoke stacks and a boring outlook.

Lodz today is considered a friendly, hospitable and vibrant city, with unique architectural, exceptional museums and beautiful scenic surroundings. The second largest city in Poland, Lodz today is perceived as an important cultural, scientific, educational and medical center. It's a city that's going places - both in terms of leveraging its rich heritage and in positioning itself basis its latest achievements. For instance, it is host to the International Exhibition of Artistic Fabrics, which is organized by the Central Museum of Textile, and is a one-of-its-kind event held in Europe, unique to Lodz.

Like most Polish cities, Lodz was also wounded severely during WWII. Before Lodz was annexed to the Third Reich, it used to have a large and extremely successful Jewish community. In fact on the eve of WWII the Jewish population in Lodz amounted to 40% of the total inhabitants, and was the second largest Jewish community in Poland. The Jews were mercilessly persecuted and brutalized and during the war a Jewish ghetto was established in Lodz, where many Jews were detained until the 'Jewish question' could be resolved. When the Russians finally liberated the Lodz Ghetto in January 1945, of the 230,000 Lodz Jews only 877 remained.