Krynica - The Pearl of the Polish Spas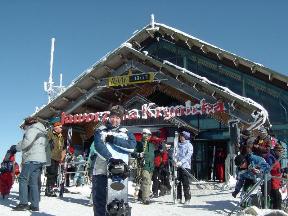 The biggest spa town in Poland, Krynicais, is located in the southern part of Poland. It is one of Poland's best known health resorts and draws many tourists around the year for its medicinal waters, beautiful landscape and many cultural activities.

Situated in Beskid Sadecki, the town was originally founded in 1547 by Krakow's Bishop Samuel Maciejowski, although the oldest information about Krynica can be found in a treatise about the surative springs of the region published in 1721. But it is 1793, which is considered its foundation year, because Franciszek Stix von Saunbergen, who became the owner of the Krynic declared that its springs with curative powers should be put to a profitable use and thus the first baths were built. This was just the beginning of the resort as we know it today, which went on to become the most popular spa resort in Poland.

Often referred to as the Pearl of the Polish Spas, Krynica, like Zakopane, attracted many poets, writers and artists. In fact it was visited by illustrious names like Jan Matejko, Wojciech Gerson, Leon Wyczolkowski and Stanislaw Wyspianski and of course the painter Nikifor. In fact by the turn of the century Krynica had established itself as a haven for bohemian artists. Today, it hosts an economic summit every year, where important dignitaries like Presidents of various countries get together to discuss economic and political matters.

Set in a picturesque location, Krynica is famous for its clean air which has a large amount of ozone and lingering perfume imparted by ethereal oils, a characteristic sun alpine mountainous microclimate, and of course its therapeutic waters. Today its mineral springs, famous throughout Poland, are also a source of the prime industry of the region - water bottling.

There are a variety of summer and winter activity that one can enjoy there which includes tennis, biking, hiking, skiing and snowboarding and even horse riding.