Krakow - The New Prague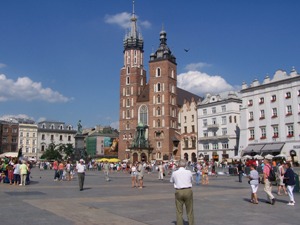 Prepare to be awestruck. And that's no exaggeration.

Now a favorite destination for travellers in Europe, Krakow has now risen to become a much sought after stopover for tourists who are touring continental Europe. Krakow's magnificent Renaissance era buildings in the Old Town are now part of UNESCO's World Heritage sites. The architecture of the Old Quarter of the city is simply inspiring and the old world charm of the Krakow is further enhanced by the sights of castles, museums and art galleries which are found all over the city.

Oft called the "New Prague, Krakow is a magical city. It attracts thousands of visitors every year and is a major tourist destination in Poland, not without reason. At the height of summer, this stunning city is thronging with tourists who are absolutely enthralled with its Renaissance arcades, Baroque spires, and one of the best preserved medieval city centers in Europe. Located in southeast Poland, between the Jura uplands and the Tatra Mountains and on the banks of Vistula River, walking through this city is like entering an enchanted world.

Scores of churches, ancient towers and spires and domes dominating the skyline, while lively pavement cafes and market stalls occupy every available inch of the cobbled space in Rynek Glowny, the city center. It must be said though, of these myriad cafés and bars, that none has been allowed to spoil its appearance.

A UNESCO World Heritage site, Krakow, also called Cracow, has been left largely intact since the 13th century. It escaped the devastation caused by Hitler's armies and hence it is a showcase for centuries of Polish architecture. Krakow also draws many catholic pilgrims as it is also the city of Pope John Paul II, where he lived for several years and served as archbishop and then cardinal before moving to Rome to start his Pontificate.