Kielce - The Biggest Open Air- Geological Museum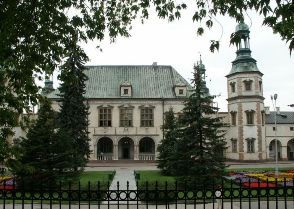 The capital city of Swietokrzyskie voivodship, Kielce is over 900 years old. It is a major center of a very attractive tourist region, which has a wide range of natural attractions and living folk art that are sure to interest any visitor. Set on the edge of the Swietokrzyskie Mountains, the oldest mountains of Europe, and on the banks of the Silnica river, Kielce used to be widely known for limestone quarrying. Today it is significant as an important center for trade and commerce, in addition to being a scenic town with many historical and ancient sights.

Kielce is renowned to be the only city in Europe that has geological formations from ancient eras. Owing to this, it is sometimes referred to as the 'Biggest Open Air- Geological Museum'. Here you can find rocks of all geological formations of the different periods in the Paleozioc age.

Kielce has many interesting sights that are highly recommended to the visitor. In addition to numerous churches and cathedrals, galleries, old castles, Kielce is also a haven for nature lovers. It boasts fresh clean air, verdant green parks, five nature reserves which have numerous walking routes. East of Kielce spreads the highest central range of the Swietokrzyskie Mountains which is under protection of the Swietokrzyski National Park. If you're fond of the outdoors then you won't be disappointed hiking in this region.

Locals proudly proclaim that if you have tea of coffee in Kielce you'll never forget the experience. This is a result of the excellent tap water, which comes from the depths of the earth and is comparable to table mineral water. So when in Kielce do remember to indulge your tea buds!