Kaszuby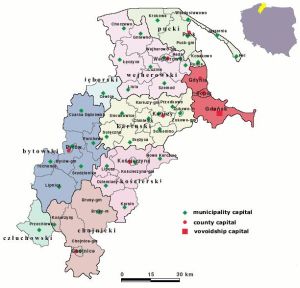 The Kaszuby Province lies in the northern edge of Poland. It spreads over south and west from the sea port of Gdanski on the Baltic Sea and covers an extensive area of varying landscapes - from sand dunes to forests and hills. The most important feature of the Kaszuby region is the thousands of lakes that abound the area. It is because of these lakes it is also called the Kashubian Lakeland. The region promises an exciting holiday in the sun and the sea combined with heritage sites and folk culture.

Marked by a strong ethnic culture, the Kaszuby region has been the heart of fishing and farming for long time. The natives speak their own language - Kashubi. The place is also famous for its folk culture and porcelain & pottery manufacturing. The Kaszuby Province is marked by small villages and the many lakes around which tourism has built up. They say "wherever you throw a stone in Kashubia, it will land in water".

The Kaszuby or the Kashubian Lakelands with its varied landscape is often called 'the world in a pill'. You must visit this part of Poland for a unique experience.