Kalwaria Zebrzydowska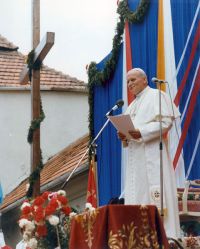 Kalwaria Zebrzydowska, south of Krakow is a landscape park of astonishing beauty. Its 17th century Franciscan monastery, declared a World Heritage Site by the UNESCO in 1999 is its chief attraction. Tourists across the globe make a beeline for Kalwaria during the Holy week (March-April). Passion plays (incidents taken from the last days of Jesus), performed by the locals are said to be divinely inspired and can give any Hollywood production a run for its money. August 15, the Festival of Assumption day is another crowd puller.

Kalwaria, like any other ancient tourist spot has a fascinating story of origin. Unlike other tales, however, it did not stop. The story has turned real.

Mikolaj Zebrzydowski was the squire of Krakow at the turn of 17th century. His wife saw three flaming crosses, soaring into the air. Mikolaj built a church and monastery over the spot. He built the Way of the Cross-a garden where he meditated. New chapels came up with unfailing regularity. Finally, the monument count was 44. The landscape was built as a replica of Christ's Jerusalem. It is a fine example of Calvary (a man-made landscape symbolizing the stages that led up to Christ's crucifixion). The Jesus Christ's Tomb, the House of Mary and the Western Gate among them have been conferred the status of being world heritage sites.

Mikolaj Zebrzydowski ordered his designer Feliks Zebrowski to replicate the path taken by Christ in toto with ten times magnification. For some reason, only three times the original length was taken into account while laying down the routes. Even then, a stroll in the 'Kalwaria Avenues' can be quite enervating and daunting, too, if done alone.

Guided tours are strongly recommended. A group reduces the chances of getting lost in the labyrinth and company is always rejuvenating. The furniture shops in and around 'Kalwaria Avenues' provide a refreshing breather.