Gorzow Wielkopolski - The Green City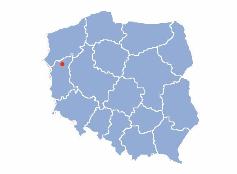 Situated in the centre of the region called the green lungs of Poland, Gorzow Wielkopolski is the one of the two capitals of the Lubuskie region and is a mere 35 kilometers from the German border. The city serves as the seat of the provincial governor and other provincial institutions. Hailed as the green city of the region, almost 8% of Gorzow Wielkopolski, which is set on the banks of the Warta River, has green cover in the form of resplendent, verdant parks and municipal gardens.

With a population of just 125,000, Gorzow Wielkopolski is situated at the cross roads between Szczecin, Poznan, Zielona Gora, and Western Europe, making it an important commercial center. In fact the region has three border check posts which accounts for 20% of all border traffic across the Polish border or almost 50 million people who come and go from the country into Germany.

Gorzow Wielkopolski is a young city - in that a large number of its residents are under the employable age. It is not a widely known fact that the largest investment in the light industry in Poland is in Gorzow. It also a major economic center of the region in that it attracts foreign investors and entrepreneurs alike due to its favorable business environment. For instance Volkswagen, which employs 2,500 locals, has a plant for manufacturing electric conductor quads and is the second major investor of the region.

A picturesque city, Gorzow Wielkopolski is set upon seven hills. The city provides an excellent base for excursions to the neighboring lakes, rivers and woodlands. Within the city, there are many interesting monuments and sights, both ancient and modern that bear testimony to the city's heritage and modern achievements and make it a definite must on your itinerary!